The Anthem
The Anthem of the Republic of Armenia was adopted on July 1, 1991, by the Supreme Soviet of the Republic of Armenia. It is based on the Anthem of the First Armenian Republic
(1918-1920), but with different lyrics.
The author of the lyrics is poet Mikael Nalbandian (1829-1866)
Literal translation in English:

Our Fatherland, free and independent,
For centuries have You survived,
Your sons are now summoning thee,
To a free, independent Armenia.

Death is the same everywhere,
One dies but once,
Blessed is the one who dies
For the freedom of his nation.
The Flag
The law "On the State Flag of the Republic of Armenia" was adopted on August 24, 1990, by the Supreme Soviet of the Republic of Armenia. The State Flag is a rectangular panel with three equal horizontal stripes of red, blue and orange (from top to bottom).

CMYK1 99 84 0
RGB237 27 53
hex#ed1b35
CMYK97 74 1 0
RGB0 84 166
hex#0054a6
CMYK0 49 98 0
RGB247 148 30
hex#f7941e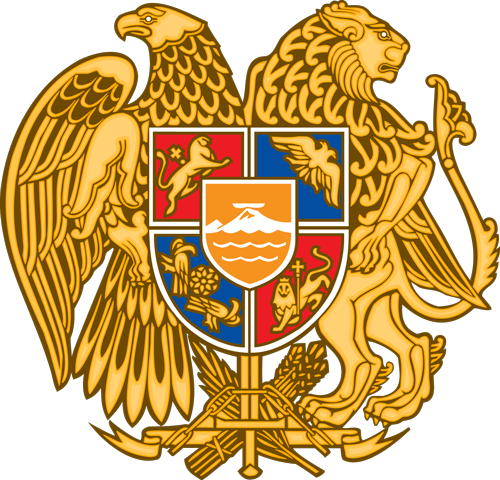 The law "On the State Coat of Arms of the Republic of Armenia" was adopted on April 19, 1992, by the Supreme Soviet of the Republic of Armenia.
It is a rendition of the Coat of Arms of the First Armenian Republic (1918-1920) designed by member of the Russian Academy of Fine Arts, architect Alexander Tamanian and artist Hakob Kojoyan.
ARMENIAN ARMED FORCES EMBLEM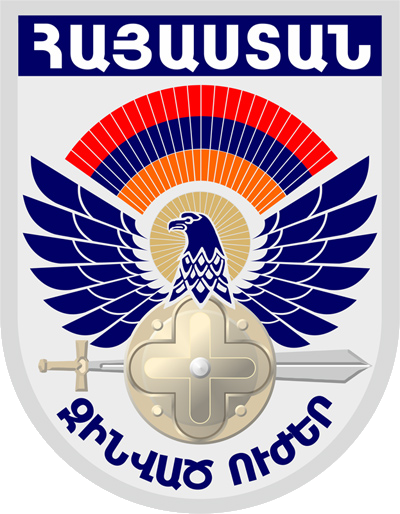 On January 23, 2001, Armenian President and Armed Forces Chief Commander Robert Kocharyan approved Armed Forces emblem. The emblem is depicted on a shield, which has a rectangular top and a semi-circle bottom.
On the top edge on blue background, it is written "ARMENIA", and below "ARMED FORCES".
The rest of the shield is made up of the following image elements: open-wing eagle with his head turned rightward. The eagle's each wing consists of seven feathers (figure 7 symbolizes seven days of a week, and can also be considered as 15 states of ancient Armenia) is placed in the central part.
The eagle is depicted in dark blue. The eagle symbolizes power, strength, penetration, movement and will.
All of these features are characteristic to the country's defence army.
The eagle's head is depicted on the circle of the sun, which symbolizes the following: as long as there is the sun there will be Armenia and Armenian armed forces.
On the sunbeams, inside the opening of the eagle's wings, Armenian tricolor is presented. It convinces that Armenian Armed Forces are under the auspices of the state.
The eagle's body makes an Armenian round shield executed in dark and light apricot color. The shield symbolizes that the Armed Forces defend the country.
A cross is depicted inside the shield. This cross is the evidence of our Christian inheritance and belief.
The last element of the emblem is the sword. It is placed below the shield. On the right you can see the tip of the sword and on the left - its blade. The sword stands for constant vigilance and is ready to land on enemy's head for the sake of the Motherland.
The eagle's claws crowned the image.
The authors of the emblem are artists Ruben Arutchyan and Gagik Abrahamyan.